Rumeli Fortress (Rumelihisari), a mighty castle, rises over one of the narrowest stretches of the Bosphorus, is among the favourite spots in Istanbul to go for breakfast, gaze at the scenery, and appreciate the fort, especially after the rush and bustle of Sultanahmet. The Rumeli region is calm and restful, and the breakfasts are delicious! Also serving as a museum, this is a must-see attraction in this unique city!
Quick History
It began as a defensive strategy, but it has played various roles since its construction in 1493. It has served as a guardian, a toll booth, and a jail before retiring to become a museum.
Rumeli Fortress is an important structure that has undertaken great duties in the defense of Istanbul by being located right across Anadolu Fortress. Its construction was ordered by Fatih Sultan Mehmet just before the Conquest of Istanbul. The fortress was completed in 139 days, and more than 1,000 workers and masters worked in the construction.
Like most of Istanbul's "must-see" attractions, Rumeli Fortress has a long and rich history reaching back to the 1450s. Since then, its strategic placement atop a hill at the narrowest point of the Bosphorus Strait has made it an important fortress.
What to expect from your visit?
Rumeli is not on the major tourist trail because it is not near Sultanahmet, Hagia Sophia and the Blue Mosque, and although being recognized as a museum, there are few exhibits. It is basically just an excuse to climb the walls and ramble around the garden.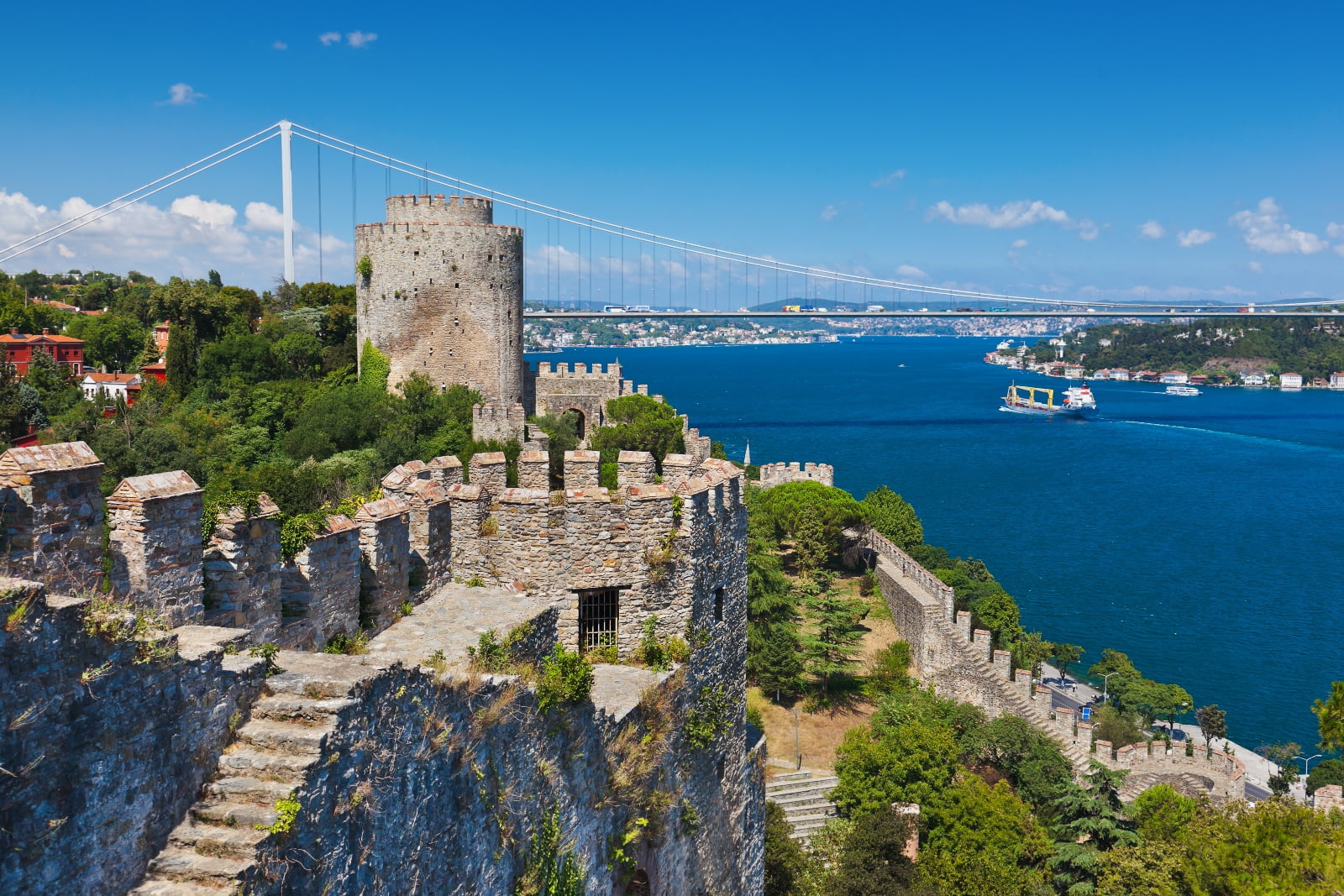 This is a one-of-a-kind location for history fans. It is situated on both the Asian and European shores of Istanbul. Do not pass over this out-of-the-way location.
Walking through the alleys, through all of the antique canons, and up the steep steps of the fortress will take you back in time. Ascend to the highest peak, then close your eyes and envision all that has happened on this site.
Open your eyes and take in the spectacular 180-degree sight of the Bosphorus and the eastern skyline. Do not forget to enjoy the fact that you are in Europe and staring towards Asia.
Rumeli Fortress also hosts many different artistic events and concerts in Istanbul, especially in the summer months.
Hours and Fees
Rumeli Fortress Museum is open every day between 09:00-19:30 except Mondays. Closed on Mondays.
Ticket Options
Entrance to Rumeli Fortress is 40 TL
Getting to Rumeli Fortress Tips
Rumeli Fortress is located in Sariyer district. See on google map.
For those coming from Sultanahmet or Galata, can take the Kabatas-Bagcilar T1 tram line, and get off at Kabatas stop. And than you can take the public bus for Sariyer.
For those on the Asian side of Istanbul, can take the ferry to Besiktas. And than you can take the public bus for Sariyer.