Istanbul offers a wide range of activities for all ages. If you are planning a family trip to Istanbul, you don't have to worry about keeping your children entertained. There are plenty of fun things to do in the city with kids, from exploring museums and parks to visiting aquariums and theme parks. Discover and enjoy our pick of the fun things to do with kids in Istanbul, including guide to best family-friendly city break to Istanbul.
Are you aware of the Child discounts?

Most museums provide free entrance to children under the age of six. There are also special reductions for youngsters of up to 50%.
Best of Children's Activities in Istanbul
From exploring historic sites to indulging in delicious local cuisine, there's something for every member of the family to enjoy. We put together some of the best kid-friendly activities and attractions in Istanbul, so you can plan the ultimate family vacation. See suggestions of places to visit with your children in Istanbul below:
Insider Advice: Kickstart your Istanbul adventure with the Istanbul E-Pass or Istanbul Tourist Pass. These passes provide free access to around 70+ top attractions, tours and essential local services in the city with around 70% savings.
1. See all of Turkey in a couple of hours at Miniaturk
Miniaturk, also known as Miniature Turkey Museum, is a popular tourist attraction located along the Golden Horn. A spectacular open-air museum showcasing the miniature version of Turkey's most famous sights and architectural masterpieces. The museum features miniature models of iconic landmarks and buildings from across Turkey, as well as a few from outside of the country. You will witness miniature versions of Turkey's most famous sites and structures, scaled down to 1/25 of their actual proportions.
The miniature models are constructed with great attention to detail and are made using various materials such as marble, wood, and glass. Some of the notable models include the Hagia Sophia, the Blue Mosque, the Topkapi Palace, and the Cappadocia region.
You can take a walk around the museum's landscaped gardens and admire the miniature models while learning about Turkey's history and culture. The museum also features a playground for children, a souvenir shop, and a cafe.
2. Build and play at Legoland Discovery Centre
Located in the Forum Istanbul shopping mall in Bayrampasa, this iconic attraction is a haven for Lego enthusiasts of all ages. Step inside and prepare to be transported to a world of creativity, imagination, and endless possibilities.
Step into Legoland Discovery Centre Istanbul and let your imagination soar as you encounter iconic Lego structures, engage in hands-on activities, and embark on exciting adventures. From building your own Lego creations to experiencing thrilling rides and shows, Legoland Discovery Centre Istanbul offers a truly memorable experience for Lego enthusiasts of all ages.
Visit Legoland Discovery Center Istanbul
3. Enter the cockpit of a plane at the Rahmi M Koç Museum
The Private Rahmi M. Koc Transport Museum is a must-visit place for all the transportation enthusiasts in Istanbul. Located on the shores of the Golden Horn, the museum is home to an extensive collection of historic vehicles and transportation artifacts, including planes, trains, automobiles, and even submarines.
You'll find historic automobiles, trains, vintage airplanes, and even a submarine. There is also a planetarium on-site. Kids may attempt scientific experiments in the interactive museum or explore the cockpit of a Bellanca jet for a fascinating, hands-on experience. The museum is a must-visit attraction for anyone with an interest in transportation and technology.
---
Tour Booking Advice
---
Visit Rahmi Koc Transport Museum
4. Ride the rollercoaster at Vialand
If you're looking for an exhilarating and fun-filled experience in Istanbul, Vialand Theme Park is the perfect destination. Located in the Eyup district, along Golden Horn, Vialand offers a world of adventure, entertainment, and thrills for visitors of all ages.
Families visiting Istanbul may experience exhilarating rides on the Nefeskesen rollercoaster, which can reach speeds of 110 km/h in 3 seconds. This is one of the rides available in Vialand, Turkey's first and largest amusement park. Its expansive grounds are packed with activities for people of all ages. Go on a splashing swift river excursion on the ilgin Nehir rafting experience, with rafts seating up to 9 people.
5. See antique puppets at Istanbul Toy Museum
The Istanbul Toy Museum is a unique museum located on the Asian side of the city. It is a fantastic place where visitors of all ages can indulge in nostalgia and relive childhood memories. The museum houses a vast collection of toys from all around the world, ranging from traditional Turkish toys to modern toys from various countries.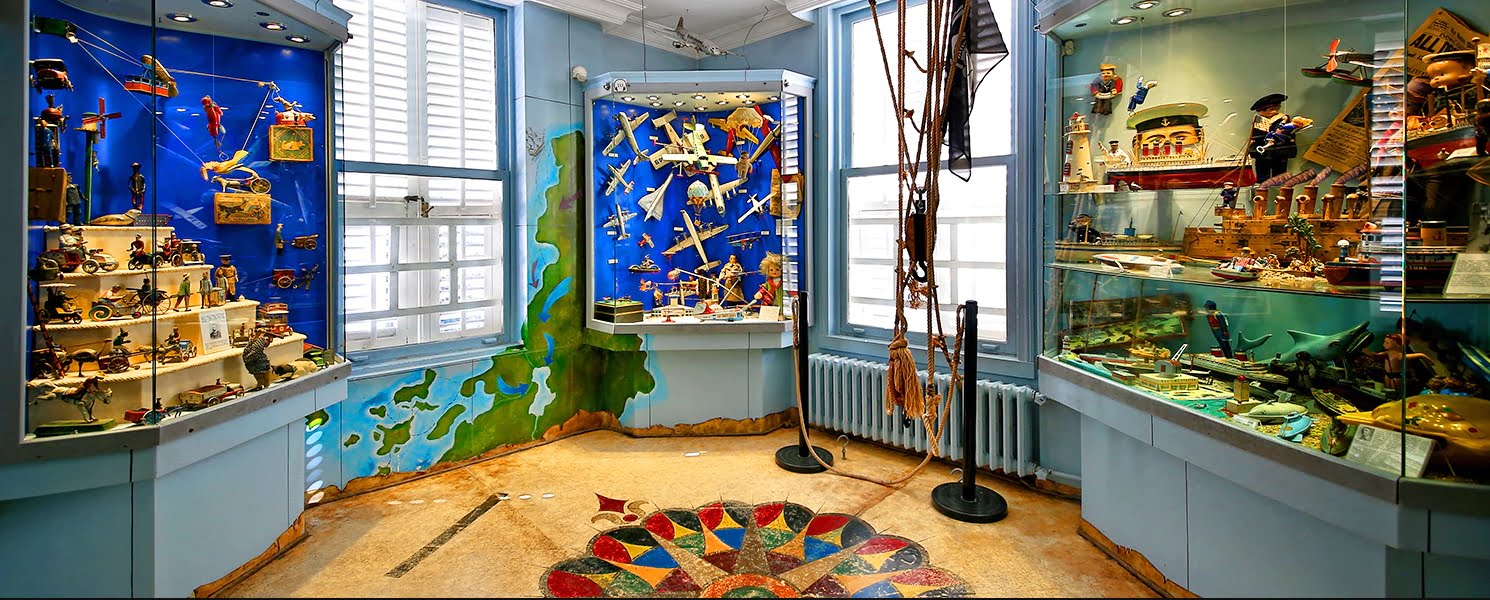 The museum was founded by Sunay Akin, a Turkish poet and author, who began collecting toys as a child. The collection grew over the years and eventually led to the opening of the museum in 2005. The museum is located in a historic mansion and features over 4,000 toys, including dolls, board games, action figures, and more.
6. Visit Jurassic Land and meet a T-Rex
At Jurassic Land, Istanbul's dinosaur-themed attraction, you may go back in time to when dinosaurs controlled the Earth.
This indoor theme park is located within the Forum Istanbul shopping mall complex in Bayrampaşa, on the European side of the city and approximately 15 minutes drive west of downtown. It includes a paleoanthropic exhibit and a scientific exploration center, and over a dozen animatronic dinosaurs situated in their imagined habitats. In its 6D cinema, you may see brief yet thrilling films.
7. Experience marine life at Istanbul Aquariums
Sea Life Aquarium
If you've ever been fascinated by the mysteries of the ocean and its captivating marine life, Sea Life Aquarium in Istanbul is the perfect destination for you. Located at Forum Istanbul in Bayrampasa district, this immersive aquarium offers a mesmerizing journey into the underwater world, where you can witness incredible marine creatures up close.
It is the world's fifth-biggest aquarium, including beautiful sea animals, the largest shark collection in Europe, the Digital Aquarium, the Turtle Hospital, and thematic zones.
Visit Sea Life Aquarium Istanbul
Istanbul Aquarium
Located in the vibrant district of Florya, Istanbul Aquarium is a world-class attraction that offers a unique blend of entertainment and education. Spanning over 8,000 square meters, this sprawling facility houses a diverse range of marine life, enabling visitors to explore different aquatic ecosystems and witness the beauty and wonder of the underwater world.
Step inside the Istanbul Aquarium, and you'll find yourself transported to a realm filled with vibrant coral reefs, tropical rainforests, and even the prehistoric era of dinosaurs. Immerse yourself in this enchanting environment as you embark on a journey that will leave you awestruck and inspired.
8. Tourist Bus Tour of the City
A fantastic day out activity aboard an open-topped double-decker tourist bus. The upper deck of the city sightseeing bus provides a superb vantage point for the city's stunning panoramic vistas and allows you to take photographs.
9. KidZania
KidZania is an interactive children's village that blends inspiration, entertainment, and learning through realistic role-playing activities for children aged 2 to 14 years old. Children may explore an 80,000-square-meter metropolis independently, with over 100 intriguing vocations to attempt.
Through realistic role-playing games, children learn about diverse vocations, city living, and money management. They should learn about the business cycle in a fun way. KidZania employs a corporate currency known as "kidZos," The children may earn through employment, spend on goods and services, put in bank accounts, save, or even contribute to the community.
10. Picnics in picturesque parks
Emirgan Park
When spring arrives, Emirgan Park is especially well-known for its vibrant tulips. There are three old residences as well as several tiny lakes. Today, these mansions serve as food service areas. There are also large picnic spaces and several playgrounds for youngsters to enjoy.
Gulhane Park
One of Istanbul's most beautiful parks, it was previously Topkapi Palace's garden. Today is ideal for running and strolling among the flower beds. A historical column may be found if you stroll to the park's very edge. The Goths column was built 1700 years ago and is one of Istanbul's oldest monuments. If you look closely at the trees, you could even see some colorful parrots! These parks are ideal for a stroll or a picnic. If you don't want to bring a picnic, there are high-quality cafés and restaurants in the parks. The ideal location for a Turkish breakfast.
11. Madame Tussauds Wax Museum
Madame Tussauds Wax Museum is a popular attraction for both tourists and locals. It is located in the historic Beyoglu district, near the famous Istiklal Street. The museum is known for its lifelike wax figures of celebrities, historical figures, and cultural icons. Visitors can get up close and personal with the figures, take pictures, and learn about their significance.
The museum features over 60 wax figures of famous individuals, including Turkish celebrities, international politicians, musicians, athletes, and actors.
Some of the most popular figures at the Istanbul Madame Tussauds include Mustafa Kemal Ataturk, the founder of modern Turkey, Turkish pop star Tarkan, and international figures such as Barack Obama, Angelina Jolie, and Leonardo DiCaprio. Visitors can also see historical figures like Napoleon Bonaparte and Cleopatra, as well as fictional characters such as Harry Potter and Darth Vader.
Visit Istanbul Madame Tussauds Museum
12. Practical Cooking
You've probably heard about the famed Turkish food you'll be eating in each place. Because of its large population, Istanbul has everything and provides a variety of culinary lessons.
If you are traveling with preschoolers, picking your fish from the market, and allowing them to watch how it is prepared is one option. Suppose you are traveling with young teens or teenagers. In that case, you should consider including a culinary tour to help them to become more adaptable eaters.
13. Bosphorus Boat Tour
The Bosphorus Cruise is one of the most famous, distinctive, and amazing types of entertainment available during your trip to Istanbul. It is also one of the greatest ways to experience and appreciate the city's most gorgeous views and sensations from the water.
Public ferries, boat tours, sunset cruises, lunch or luxury romantic dinners on luxury yachts. The best way to experience Istanbul by sea.
Find about more on Bosphorus Cruises
14. FunLab
FunLab is a fantastic attraction center for kids located in the everal branches all over Istanbul, while the most popular one of the visitors is the one in the Cevahir Shopping Mall. Here you can choose among eight categories from video & arcade games to redemption games and big rides for adrenaline addicts.
Kids can also enjoy many kinds od simulation and multi dimensional games, as well as video games. There are also rides for bigger kids  from horror tunnel and tower to the wave, to rides suitable for small kids.
15. Istanbul Dolphinarium
Istanbul Dolphinarium is another good attraction center for kids where your family and kids explore the fascinating world of sea mammals. You are able to have a closer look at these charming dolphines, walruses, seals and the Beluga.
16. Moipark Istanbul
Moipark is a fun place where you can experience and enjoy the giant swings, high-speed shuttles, adrenaline-filled games, fun tunnels, a horror-conscious hotel, gift-giving units.  It is considered to be the largest indoor entertainment colony in Europe consisting of two floors on a 12,000 m2 area. You'll find live stage shows and lots of several entertainment  activities.
Travel suggestions for families with children in Istanbul
Hotels
Children are highly appreciated in Turkey. Locals are especially tolerant and sympathetic towards youngsters. You may discover central family hotels in Istanbul that are close to attractions and activities like Taksim Square and Sultanahmet.
Food & restaurants
The locals are often quite tolerant of youngsters, which should not be disregarded. It is thus quite acceptable to take a break with your children in a restaurant or café. Children are always welcome. When it comes to selecting food, there is always something nice to be found. Most children enjoy lahmacun (Turkish pizza) and doner kebab or pide. Even if something isn't on the menu, you can request it, such as an omelet or noodles with sauce. It is also acceptable to order one dish and have the children eat with the grownups. No worries.
Children's Travel Kit
If you are traveling with children aged 3 to 8, they may want to pack their backpacks to get into the trip spirit while packing. While several toys may already occupy the entire room, you may obtain one of their beloved toys. Drawings, workbooks, paints, digital tablets for emergencies, lollipops or other sorts of candies kids enjoy, tissues & wet pipes, certain munchies, and medication are some of the possibilities.
Medication
If you need a particular medicine, keep in mind that a similar brand will be available. So, you don't need to pack everything but grab the essentials for the airline and any particular prescriptions that can't be switched.